Air Conditioning Services
Repair, Installation, Replacement, Maintenance
Air Conditioning Repair, Replacement, and Maintenance Services
By providing air conditioning repair services, when it's time to stay cool, we've got you covered. Stone Heating and Air provides the areas of Longmont and the surrounding communities with top HVAC services to keep the hot, dry air out and the cool refreshing air inside your home.
Our services include residential and commercial air conditioning installation, replacement, maintenance, and repair services. You can trust that our certified HVAC technicians care for you and your home.
Because we are a local company, you know that our workers are familiar with the hot, dry summers in Colorado. We understand which AC setups work in which homes.
We Offer a Wide Range of Cooling Products
While other air conditioning companies in the area may have one-size-fits-all products, we offer a wide range of cooling options from the best brands in the industry to all our commercial and residential clients. Our technicians will go over a comprehensive plan with you to efficiently and cost-effectively cool your home or place of business. We work with you to minimize inefficiencies and listen to your needs and plan our work accordingly.
Here Is What You Will Find on This Page
AC Sale
Special Offer: Pre-Season AC Sale
Not valid for third party, new construction customers, with any other offers or discounts, or prior sales. Coupon required at time of service. Void if copied or transferred and where prohibited. Any other use may constitute fraud.
Get in touch with our HVAC experts
Prefer A Phone Call Over Email?
For service, call to schedule an appointment today at 303-564-0986.
Our AC Repair Services
If you've lived in Colorado for any period of time, you know how crucial it is to have a reliable air conditioning repair service to turn to in the heat of summer.
Our experienced team is prepared with a comprehensive suite of repair and maintenance services in addition to installation to cover every possible situation. If you need to replace your old AC system or you notice it isn't keeping the house as cool as you'd like, we can send our best repair experts to take care of the issue.
How Much Does AC Repair Cost?
According to Hvac.com, the average amount that homeowners pay for air conditioning repairs is $300. Depending on the type of repair you need or the replacement parts your service will require, you may be paying more or less. Common issues and average costs may include:
Replace condensate drain tube – $20
Replace condensate drain pump – $240 to $450
Flush drain line – $75 to $250
Recharge refrigerant – $250 to $750
Repair refrigerant leak – $200 to $1,500
Replace compressor – $1,900
Repair outdoor fan motor – $200 to $650
Replace breakers, relays, or fuses – $75 to $290
Replace condenser coil – $1,900 to $2,900
Air Conditioning Maintenance Services
Keeping an air conditioning unit working properly not only saves you from the uncomfortable heat waves of summer, it also helps to prolong the life of your unit and can save you money. Just like your car needs regular tune-ups to continue running properly, you need regular air conditioning tune-ups to keep your home cool and your system efficient.
Call Stone Heating and Air in Longmont today to check for current specials on air conditioning maintenance services.
How Often Do I Need Maintenance Services?
It's important that you service your system at least once per year. Your air conditioner needs a tune-up each spring to provide you with optimal efficiency, according to Angie's List.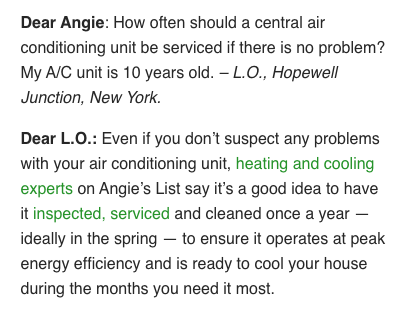 What is the Purpose of Maintenance?
To keep your air conditioner running efficiently, your professional HVAC system technicians are essentially checking for smaller issues with your system that could grow into larger, more costly issues if left untouched. The goal is to check and make sure the components of your unit are running as they should.
Here are a number of the tasks your air conditioning technician may work on during this service:
Change a dirty, clogged air filter if needed in order to improve your system's airflow and overall performance.
Check to make sure your thermostat is functioning properly and causing your system to maintain the set temperature.
Inspect your evaporator and condenser coils, checking to see that they are clean and unhindered from property absorbing and releasing heat.
Ensure there is no backed-up water in your condensate drain, which could ultimately damage your system.
Inspect your system's fans and compressors for worn parts.
Ensure moving parts are lubricated.
Tighten any loose electric wiring connections.
Check for and resolve refrigerant leaks and ensure your system has the right refrigerant levels.
Check ductwork to ensure air is not escaping and causing energy loss.
Air Conditioner Installation and Replacement Services
The reality is, air conditioning systems do not last forever. Whether you're ready to switch to a different type of cooling system or you need your existing air conditioner replaced, Stone Heating and Air can help. We provide AC replacement and installation services from Longmont to Erie, Firestone to Dacono and the surrounding areas. Contact us today to get your estimate.
How Much Does Air Conditioner Replacement Cost?
Is your cooling unit on its last leg? It may be time for a replacement. Obviously, to get an estimate for your specific home and the type of unit you will need, you will want to get one or more quotes from local HVAC companies  However, on average if you are replacing a unit without installing new ductwork, you may be paying from $3,350 to $5,900, according to 2020 averages posted by HomeGuide. If your replacement requires the installation of new ductwork as well, you may be seeing a price tag from $5,900 to $8,900.
It's important to remember when having a new unit installed that your main goal is not necessarily to find the cheapest one out there. For example, a high-efficiency system will cost you more upfront, but you'll be paying less in your monthly bills in the long run. Also, simply opting for the cheapest option could mean your new unit won't last as long and will have to be replaced sooner. Talk through your options with your trusted HVAC company and make sure you are making the best choice for your home and your family.
Be sure you're also looking into all the available rebates in your area. This is an excellent way to save some money while getting a unit that will offer high efficiency. To see the rebates you could qualify for if you live in or near Longmont, visit https://efficiencyworks.org/homes/rebates/.
What Are the Cost Factors for an Air Conditioner Installation?
When you are hiring a professional HVAC company in Longmont to install an air conditioner, there are a number of factors that will affect the overall cost. Obviously, you will pay for more than just the unit itself. Here are a number of factors that will affect your overall cost:
Cost of installation labor
The size and capacity of your cooling equipment
The type and brand of the AC system you purchase
SEER ratings (Seasonal Energy Efficiency Ratio): higher ratings mean better efficiency, and as a result, higher cost
Whether or not you need repair or replacement for ductwork, vents, and returns
What Size AC Unit Do I Need for my Home?
It is essential that you get the proper size unit for your home's cooling needs. Purchasing a unit that is too large will cost you more money than you need to pay initially, and it will also raise your electric costs. While it may seem like buying a larger unit will be more energy-efficient, the opposite is actually true. On the flip side, buying a cooling system that is too small will cost you more because it will have to work much harder to get your home to reach and stay at the desired temperature. Be sure you have a qualified professional taking your home and climate into consideration to choose the right size.
Your local HVAC technician can help you figure out the right amount of BTUs (British Thermal Units) per square foot you'll need for your home. This essentially is a measurement of the heat amount an AC unit is able to eliminate from your home per hour at top efficiency. This will depend on the area and climate in which you live. Check out the screenshot below from a homeguide.com showing the different zones across the US and number of recommended BTUs per square foot:
What Type of Air Conditioning System Does My Home Need?
If you're in the market for an air conditioner or cooling system for your house, you might be wondering what type of system you need. Does it make more sense to use one or multiple window cooling units, a ductless air conditioner, or central air for your Colorado home? While the choice is completely up to you, let's consider some of the pros and cons of each of these home cooling methods to help you with your decision.
Pros and Cons for Central Air
If you're not confident this is the best option for you, take a minute to look at some of the negatives and positives for this type of AC system.
Cons of Central Air:
Obviously, expense makes it to the top of the list. If you have done any research, you've likely discovered that the installation of central air is hard on the pocketbook. According to Home Advisor, the average cost you'll pay for this cooling method can range from $1,700 to $11,000. Check out the screenshot below for the cost ranges Home Advisor gives for these systems.
Not only is central air more expensive to install, but it's also more costly to repair.
You'll likely also pay more on a month to month basis to keep your home cool.
Pros of Central Air Systems:
Having central air in your home means you have the luxury of a complete cooling solution not just for one or a few rooms, but the entire house. In many cases, unless you have a really large home with multiple levels, you only need one system.
Using a central air unit, provided you have a good quality, clean air filter installed, means you can enjoy clean, filtered cool air throughout your home.
Unless you have more than one unit, you can control your system from one thermostat. You can also use smart technology so that you have very little to do to control the temperature in your home.
For the purpose of improving indoor air quality, central air units have a number of add-ons you can invest in, including whole-house humidifiers, air purifiers, and more.
Pros and Cons for Window Cooling Units
You may have considered simply adding one or more window units to keep your Colorado home cool. While this may make sense for your home, be sure to consider the pros and cons before making your final decision.
Cons of a Window Air Conditioner Unit:
Not all windows will support a cooling unit, so this may not always be an option with the existing windows you have in your home. Installing these can be challenging as well if you don't have the proper support.
Window units are not always very efficient, particularly if the panels that come with them are letting out a lot of the cool air they're producing.
One obvious con is that installing a window unit means that part of your window is being blocked, which may obstruct views and will hinder you from being able to open and close that window.
These units often drip water, which may be inconvenient or damaging depending on where the unit is installed.
A window air conditioner may not be the best option for a household where people have allergies or asthma since the air filtration won't be as great as a central air system.
A window cooling system won't have the same ability to evenly cool a room. Parts of a room may have hot spots.
Pros of a Window Cooling Unit:
Window units are going to be far less expensive than installing a whole-house cooling system and are also more affordable to operate overall. However, keep in mind that if you have to install multiple units to make your home comfortable, you may want to look into other options as well.
Depending on where the unit is placed, you may be able to cool more than one room.
You may not have to pay for installation costs if you are able to install it yourself.
Pros and Cons for Ductless Cooling Systems
You may be wondering if choosing a mini-split or ductless option is best for you. Keep reading for some things to consider.
Cons of Ductless Systems:
Ductless or mini-split systems are not an option for every application. You'll need to check with a reliable HVAC technician  to make sure you could have one where you want it. It's important that a professional does accurate installation calculations to ensure they make sense for your space. If these systems are wrongly placed or even over-sized, you may end up wasting energy and the temperature and humidity control will not be accurate.
Some people simply do not like the look of the inside components of these systems mounted in their homes.
Ductless systems can be expensive.
Pros of Ductless or Mini-Split Systems:
These systems can provide you with greater flexibility for cooling individual rooms within your home.
Some systems allow you the option of zoning. Various models of ductless air conditioning may have up to four indoor units that connect to the one outdoor unit.
Going ductless allows you to avoid the hassle of having to get ductwork installed. They're an excellent option for new room additions to a home or second or third story rooms that tend to stay warmer.
Questions to Ask to Find the Right Local HVAC Company
Whether you're looking for AC repair near you, maintenance services, or new air conditioner installation, you'll want to find a local HVAC company that can best meet your specific needs. Below are several questions you can ask that can help you decide on the right company to hire.
What is your process of figuring out the best cooling system for my home?
When looking for a company, you want someone who will take the necessary steps to make sure they're helping you choose the best option for your space. A company that provides a one-size-fits-all solution should raise a red flag. If all you get is an over-the-phone estimate without consideration to where you live and the size and layout of your home, you may want to keep looking.
Do you have multiple manufacturers that you use?
A company that can only offer you HVAC products from one manufacturer will limit your options unless you know for a fact that their product is the best one for your home. A company that works with multiple manufacturers can help you find a solution that makes the most sense. Note as well that some companies may highlight one or more manufacturers that they prefer to use but may still offer other products as well.
What warranty do you offer for your equipment and installation services?
Purchasing a new unit or paying for air conditioning repair can be costly. Make sure you are familiar with the warranty provided for any cooling equipment as well as any warranties for the installation work. Are there guarantees for your satisfaction with the service?
Is the company insurance and licensed for your area?
The last thing you want to do is hire a company that is not qualified or licensed to do the job. You'll also want to make sure they pull permits as needed for the work they do.
What is included in your quote?
Some companies may give you what seems like a low quote upfront. While this could look like an opportunity for savings, you always want to make sure you fully understand what is included in that number. You don't want to be surprised with unexpected charges in the future simply because you didn't ask more questions.
The Real Cost of Air Conditioning
Most people turn on their air conditioner when it gets hot without giving it a second thought. But installing, running, and maintaining an air conditioner has costs that many people don't consider. Those costs matter for each household and for the entire world as a whole.
Air Conditioner Usage
According to the Energy Information Association, 87% of all houses in the U.S. use air conditioning, 75% of which are central units. Today, nearly every home built in the U.S. has central air conditioning that comes standard. That means it's more common for houses to have an air conditioner than to have a dishwasher or dining room. Air conditioners use 6% of all the electricity produced in the U.S. The U.S. uses more air conditioning than all other countries in the world combined, even countries that are hotter or have a large population.
Maintenance Costs
Air conditioners play a crucial role in the comfort and safety of a home, but many people don't take care of their systems properly. Although air conditioning professionals recommend yearly maintenance tune-ups, only 43% of Americans actually keep up on annual maintenance. For those that do get regular check-ups, the effort pays off, as air conditioning units that receive annual maintenance last about 40% longer than units that don't. The average cost of an air conditioning repair is $300, which is far more than the cost for a preventative annual tune-up. In the southern U.S., 67% of households simply leave their air conditioning running all summer long, which can be harmful to the system and cause it to break down much faster.
The cost of air conditioning can add up for many households, especially those that don't take proper preventative maintenance measures or use an energy-efficient air conditioning system. In total, U.S. households spend $29 billion a year on air conditioning costs, which averages around $300 per household per year. That doesn't even factor in the cost of the electricity needed to power HVAC units.
One way to cut down on those costs is to invest in a programmable thermostat, which can cause homeowners to save an average of $180 per year. Switching to a high-efficiency air conditioner can reduce the amount of energy required to run the unit by 20% to 50%, which can lead to a major reduction in your energy bill. Variable-speed air conditioners also have the potential to lower energy usage by up to 30%. Setting the thermostat to a slightly higher temperature in the summer can also make a difference. When the inside temperature is closer to the outside temperature, the air conditioner doesn't have to work as hard, which can lead to major savings. Cooling your house by doing more than just running the air conditioner can also create a comfortable environment and help your budget. Doing things like using ceiling fans, closing blinds in the heat of the day, and avoiding doing activities that raise the temperature of your house like using the oven or running the dryer can also keep the house cooler.
Environmental Costs
The cost of air conditioning goes beyond the monetary amounts—it also includes the cost to the environment. Each central air conditioning unit in the U.S. emits two tons of carbon dioxide each year. By 2050, total greenhouse gas emissions by air conditioners around the world is expected to increase 75% from 1.25 billion tons to 2.28 billion tons. The biggest months for carbon dioxide emissions are July and August when temperatures are the highest and nearly 20% of household electricity goes to running the air conditioning.
One of the easiest and best ways to decrease the amount of CO2 emitted by your air conditioner is simply to adjust the temperature and keep your home slightly warmer in the summer.  Even a small change can make a big 0 to the environment, especially when lots of households make the change.
Air conditioners run every day in homes across the U.S. Using the right type of machine and taking care of it properly can lead to lowered costs not only for your own home, but for the entire country and environment. Understanding the true costs of air conditioning can change how you approach your system.
Stone Heating and Air Service Areas
Stone Heating and Air has been in the HVAC business since 2008. We have years of experience serving Longmont, Colorado, and the surrounding areas, including Erie, Firestone, Dacono, and beyond.
Whether we're servicing an older home near Thompson Park in downtown Longmont or a new home in Harvest Junction, you can trust that we're dedicated to providing you with the top air conditioning services.
Contact us today to set up a time for a service or to get an estimate.